Nintendo now has the top two slots.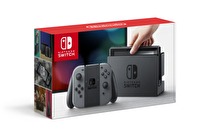 The Switch's first ten months have put Nintendo into a Wii position.
Nintendo confirmed today that 4.8 million Switches have been sold in the United States in the first ten months, a 20% increase over the Wii that previously held the record. The numbers are based on Nintendo internal tracking.
Game sales for major Nintendo titles were also announced in proportion to Switch sales. Super Mario Odyssey has sold to 60% of Switch owners for at least 2.88m copies, The Legend of Zelda: Breath of the Wild sold to 55% of Switch owners (>2.64m), Mario Kart 8 Deluxe 50% (>2.4m) and Splatoon 2 20% (>960,000).