No Hippocratic Oath issues here, it's a lab doctor.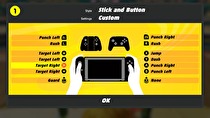 The newest ARMS fighter has wrapped up the content for the game.
Version 5 of ARMS has added Dr. Coyle to the game. Her background is in the design of ARMS and the fighters that use them, including creating Helix and reviving Mecha Mummy.
Following the release of 5.0, Nintendo issued a statement (first on Nintendo Topics in Japanese) indicating that although ARMS would continue to receive balance patches there would be no additional content for the June release.