Including an exclusive co-op mode.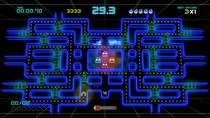 After getting competitive this summer, Pac-Man is coming back to the Switch with co-op in tow.
Pac-Man Championship Edition 2 Plus will release on the Switch eShop on February 22. The two modes of the game will be the Championship Edition 2 game that released on other platforms in 2016 as well as a co-op version of the game that utilizes two Joy-Cons.
Pac-Man's previous appearance on the Switch was as a part of the Namco Museum collection that included a version of GameCube experiment Pac-Man Vs.