You'll have your choice of how to get CommanderVideo's latest provisions.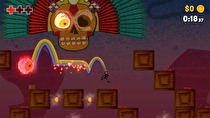 Runner3 will be an early high point for the Switch eShop next year, but stores will be able to get in on the action.
Nicalis have confirmed a physical release for Runner3 day and date with the eShop version in a trailer posted on their YouTube channel. The retail edition will launch for $39.99.
As with previous Nicalis releases, extras including a sound sampler and full-color manual will be in the box, along with "possibly another secret surprise". Choice Provisions is still expected to handle publishing of the eShop version.