And so does the 3DS.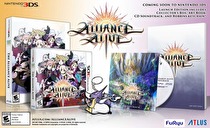 Atlus will be keeping the flame of the 3DS alive almost to the end of the fiscal year.
The Alliance Alive, the second of their three major 3DS RPGs for 2018, will release in North America on March 27, 2018. As with previous Atlus launch editions, the game will feature a soundtrack CD and artbook as first print bonuses along with a keychain.
Announced for localization in September's Nintendo Direct, the game is developed by FuRyu and is a follow-up to 2015's Legend of Legacy.