With two weeks until Festivus, mind you.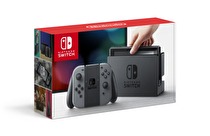 With a little under three weeks left in the year, the Switch has already passed a significant milestone in sales.
Nintendo issued a press statement today confirming the console has crossed the 10 million sales milestone (sold through to consumers) according to internal metrics. With nine months of sale, the console is selling at a pace similar to the Wii (which reached 10 million in its ninth month) and the PlayStation 4.
If the current pace holds, the Switch is expected to outsell its predecessor console by the Switch's release anniversary date of March 3.