With a couple of guests coming along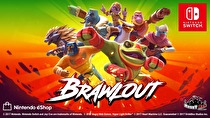 The Switch will be getting at least one more fighting game before the year is out.
Brawlout, a fighting game that is currently in Steam Early Access, will be releasing first on Switch on December 19. The US price for the game will be $19.99.
In addition to the original characters and their variants which provide sixteen playable characters, two indie guest characters have been confirmed: Juan Aguacate from Guacamelee: Super Turbo Championship Edition and the Hyper Light Drifter. More characters are also promised.