...Link on a motorcycle.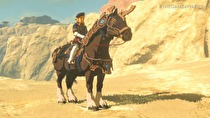 The Expansion Pass for Breath of the Wild is about to pay off in full.
Eiji Aonuma appeared at the Game Awards tonight to announce that the Champions Ballad DLC will debut tonight. The trailer showed the champions and Link in combat, plus additional story elements.
Additionally, completing the Divine Beast Tamer's quests in the pack will unlock the Master Cycle Zero - a specially designed motorcycle.