Put down the petitions folks, this one WILL happen in the West.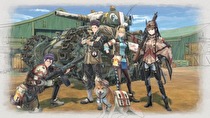 The Valkyria Chronicles series of strategy RPGs will make its full Nintendo debut next year on Switch.
Sega has announced that Valkyria Chronicles 4 will launch worldwide on the Switch in 2018, as well as on PlayStation 4 and Xbox One outside Japan. No specific release dates has been nailed down outside Japan, but the Switch version will launch in Japan in summer 2018.
The series began as a 2008 PlayStation 3 release, with re-releases on PlayStation 4 and PC in recent years causing an uptick in its popularity. The middle two games were released on the PlayStation Portable, with the third title not being localized - though its characters did come west in the Project X Zone crossover series.