Breath of the Wild needs more outfits for Link as much as a Xenoblade game needs more content.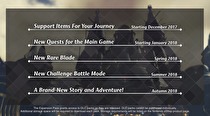 Xenoblade Chronicles 2 and its newly announced Expansion Pass are available for pre-purchase on the eShop today, and The Legend of Zelda: Breath of the Wild gets a new sidequest Thursday to unlock Rex's outfit.
Xenoblade Chronicles 2's Expansion pass is $29.99 and includes:
Support items For Your Journey in December 2017
New Quests for the Main Game in January 2018
New Rare Blade in Spring 2018
New Challenge Battle Mode in Summer 2018
A Brand-New Story and Adventure in Autumn 2018
The trailer's small prints indicates "DLC packs cannot be purchased individually."
The special edition will not include the Expansion Pass.