And Switch is putting up big numbers on its own.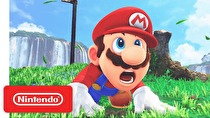 Mario's newest adventure is shattering records.
Nintendo has confirmed that in its first five days on sale, Super Mario Odyssey has sold over 1.1m copies in just the United States. That makes it the fastest selling Mario game ever, beating the record held by 2009's New Super Mario Bros. Wii. It is also the fastest selling Switch game to date. Japanese numbers released by Famitsu confirmed a further half million physical copies and download codes were sold in the region. European figures were not available, but Nintendo of Europe have confirmed that Odyssey beat the record held by Super Mario Galaxy 2 and is also the fastest selling Switch title on the continent.
The momentum has helped the Switch as well, as more than 2.6 million Switches have been sold in the United States alone through Monday, with the Japanese total for the Switch totaling another 2 million.