Rhythm action and vehicular adventure. Yup, it's that kind of week.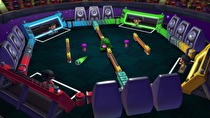 The release schedule takes a week off before next week kicks it into Mach 14 for a couple of weeks. Although there are three more card-based games for Switch this week (protip: Monopoly requires a power cycle to not load forever), the more intriguing games on the download hopper are Super Beat Sports from Harmonix and the latest game from forma.8 stars MixedBag: Wheels of Aurelia.
In lighter fare, there's a sequel to a game released on the maelstrom that was September 28 (seriously), and some late horror that actually dropped Tuesday in Aksys's Creeping Terror on 3DS. The retro front is buoyed by Art of Fighting 3, the final prequel to King of Fighters '94. And there's also a couple of demos including the new Style Savvy.
In addition to the North American releases, Europe gets a little cerebral on Switch this week with Chess Ultra. Japan has Super Beat Sports (including a demo), Death Squared, and a game about which I have already said too much, thank you.
North America
Switch Retail
The Elder Scrolls V: Skyrim ($59.99/$79.99: preload, unlocks November 17)
Monster Jam: Crush It (US$39.99/C$54.99: Tuesday)
Cartoon Network: Battle Crashers ($39.99/$54.99: Tuesday)
Monopoly for Nintendo Switch ($39.99/$49.99: Tuesday)
3DS Retail
Mario Party: The Top 100 ($39.99/$49.99: preload, unlocks November 10)
Pokémon Ultra Sun / Ultra Moon ($39.99/$49.99 ea: preload, unlocks November 17)
Switch eShop
Super Beat Sports ($14.99/$19.99)
Morphite ($14.99/$19.99)
Perception ($14.99/$17.99: Tuesday)
Chess Ultra ($12.49/$16.99)
Wheels of Aurelia ($9.99/$10.99)
King Oddball ($4.99/$5.99: Monday)
Sparkle 2 EVO ($4.49/$)
3DS eShop
Creeping Terror ($8.99/$11.25: Tuesday)
Phil's Epic Fill-a-Pix Adventure ($7.99/$9.99)
Switch Archives
Art of Fighting 3 ($7.99/$9.87)
Wii U Virtual Console Upgrade option available
Power Golf ($5.99)
Demos and Trials
Style Savvy: Styling Star (3DS)
Heroes of the Monkey Tavern (Switch)
Sales and Price Drops
Highlights: Sonic game discounts of up to 50% off are now on My Nintendo
Europe
Preliminary listing
Switch Retail
Monster Jam: Crush It (€39.99/£35.99: Tuesday)
Cartoon Network: Battle Crashers (€39.99/£35.99: Tuesday)
Monopoly for Nintendo Switch (€39.99/£29.99: Tuesday)
3DS Retail
Pokémon Ultra Sun / Ultra Moon (€44.99/£39.99 ea: preload, unlocks 17 November)
Kirby Battle Royale (€39.99/£34.99: preload, unlocks 10 November)
Switch eShop
Super Beat Sports (€14.99/£13.49)
Morphite (€14.99/£13.49)
Perception (€13.99/£12.99)
Chess Ultra (€12.49/£9.99)
Wheels of Aurelia (€9.99/£8.99)
Sparkle 2 EVO (€4.99/£4.49)
King Oddball (€4.99/£3.99)
3DS eShop
Creeping Terror (€8.99/£7.99)
Phil's Epic Fill-a-Pix Adventure (€7.99/£7.19)
Frutakia 2 (€3.99/£3.49: New 3DS only)
Galaxy Blaster: Code Red (€1.49/£1.39: New 3DS only)
Switch Archives
Art of Fighting 3 (€6.99/£6.29)
Demos and Trials
Heroes of the Monkey Tavern (Switch)
Japan - Switch
Touhou Kobuto V: Burst Battle (¥3000)
Super Beat Sports (¥1600)
Death Squared (¥1200)
Art of Fighting 3 (¥823)