Now, whither the Switch version.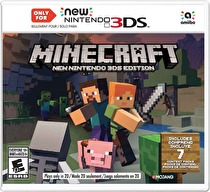 The digital exclusivity for the 3DS's Minecraft lasted about two months.
Nintendo of America has announced that the pocket-sized portable version of the Microsoft property will receive a physical release on November 10. The digital version of the game released on September 13.
The addition of Minecraft joins an already action packed day for Nintendo consoles. DOOM and Snipperclips Plus for Switch, Mario Party: The Top 100 for 3DS, and the Champion Amiibo for The Legend of Zelda: Breath of the Wild are also landing on the 10th.