We'll be getting a FORE in Intelligence this week.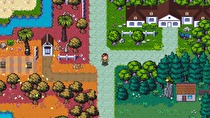 Today has featured a release date, a sale and an update on a highly anticipated indie title.
After a listing on the European Switch eShops today started a rumor, Nintendo of America has confirmed via Twitter that Golf Story will meet its promised September release date. The golf RPG will launch this Thursday (September 28) for US$14.99 or equivalent.
Rhythm violence title Thumper has had its first eShop sale starting today. The game is 25% off in North America and Europe until October 2, marking eight different Switch titles with active sales in North America at the present time.
Playtonic Games has also posted an update on Yooka-Laylee, in which the studio confirmed they are working on resolving bugs caused by a recent upgrade to the Unity framework. At the present time, they have no ETA for submission to Nintendo for release.