And an expanded Alola Pokédex.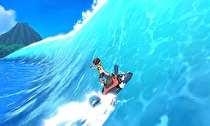 A new trailer for Pokémon Ultra Sun and Ultra Moon has released showing some new and expanded elements.
After being rumored based on glimpses in merchandise and the Nintendo Direct, it has been confirmed that the Ultra version of the Alola Pokédex will have at least 400 Pokémon. This Pokédex is up by almost a third from the original Sun and Moon games. Among the joiners are Tropius, Zorua, Larvesta, and Houndoom (Ultra Sun) or Manectric (Ultra Moon).
New island trials will be undertaken, and a new Ride Pokémon will be available for navigation between islands. Kite-surfing with Mantine will also feature a new surfing minigame.