A special edition and themed Pro Controller, too.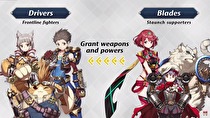 Xenoblade Chronicles 2 star Rex will journey across a variety of titans throughout the world of Alrest December 1, today's Nintendo Direct revealed.
Kingdoms built upon the titans are racing to find the legendary Blade, Aegis, and reach Elysium atop the World Tree. Six kingdoms were detailed in the Direct along with their tensions and goals. Rex lives on a small, one-bedroom titan named Azurda who can transform into the fuzzy little creature on Rex's back.
Parties consist of three attacking "Drivers" and three supporting "Blades." Arts and weapons are linked to the Blades in the party, and more Blades are unlocked through Core Crystals. About a dozen Blades appeared in the trailer, split into attackers, defenders and healers. Attacking with normal weapons builds Arts, and using Arts builds a special gauge. Specials have four levels of intensity.
Xenoblade Chronicles 2 will launch with a special edition that comes with a soundtrack, a metal case, and a 220-page art book. A themed Pro Controller launches alongside the game.