The next couple of months will be good for throwbacks.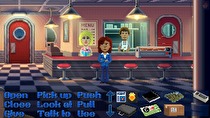 A couple of throwback Switch titles have their release dates locked down.
Thimbleweed Park, the SCUMM Engine-inspired adventure title from the creators of the Monkey Island series, will be hitting the Switch on September 21. The game has already released on PlayStation 4, Xbox One and PCs.
Two weeks later on October 5, the Switch port of Axiom Verge will release in the eShop. The Badlands Edition which was originally slated to launch day and date with the Switch release has been pushed back to November.