Begone, scalpers.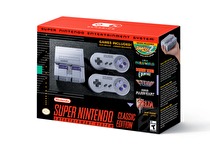 There will be Classic systems from Nintendo into 2018.
A press statement just released by Nintendo of America has confirmed that the Super Nintendo Classic Mini system will continue production into 2018, after originally planning to cut off at the end of this year. NoA is also promising to ship more units on launch day (September 29) than were shipped for the NES Classic Mini in all of 2016 and to keep the unit in high supply while shipments are available.
The NES Classic Mini will also have a new printing next summer. More specific timing on the re-release will be announced later.