Was this a product of their "Earliest Access" program announced at E3?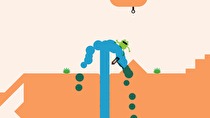 The champions of E3, Devolver Digital, have announced their newest project and it's headed for the Switch.
Pikuniku is a "absurd puzzle-exploration game" starring the title character as he tries to protect his hometown from a conspiracy hatched in the "deep state". There will be a community building aspect as well.
Devolver is expecting to publish Pikuniku on Switch and PC in 2018.