Unexpected Hadouken in Street Fighter? THAT NEVER HAPPENED.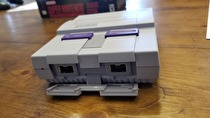 The Super NES Classic Mini is packing some powerful modern conveniences under its hood.
A new trailer released this morning shows that all SNES Classic games will feature a rewind option. The time will depend on the game, as Super Mario World can rewind 40 seconds while Super Mario RPG can rewind for several minutes. Special border designs will also be available to fill wide screens.
As promised earlier this month, preorders have begun opening for the mini-console, with Best Buy and Amazon.com having first preorder runs overnight.