Let's celebrate the news with hamburgers.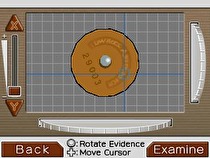 The Apollo-shaped hole in the 3DS's legal lineup is about to be filled.
Capcom has announced that the fourth game in the series, Apollo Justice: Ace Attorney, will be released worldwide on 3DS in November. With this, the entire Ace Attorney series is now playable natively on 3DS.
The US release will be $19.99 on the eShop, while Japan will receive limited physical runs that run up to over ¥15,000 for all six games in the series and a host of other merchandise.