A Japanese livestream drops several Nintendo-relevant bombs.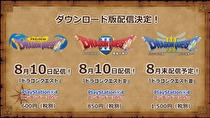 A Japanese livestream this past weekend featured four announcements of Dragon Quest games coming to Nintendo systems.
The more immediate releases are Dragon Quest I, II and III receiving releases on 3DS in Japan this month. The first two will release on August 10 in Japan for 600 yen (I) and 850 yen (II), while III will follow before the end of August for 1500 yen. The 3DS versions will be based on the mobile ports of the initial games, and allows for all mainline Dragon Quests to be playable on 3DS either natively or through backwards compatibility.
Dragon Quest Builders 2 was also announced for Switch in addition to the PlayStation 4 during the stream. The original "rebuilding game", which was a more story-focused adaption of Minecraft, released in 2015 for PlayStation systems and was localized last year for the PlayStation 4 and Vita. The sequel will add co-op play and appears to have the villain from Dragon Quest II involved in the story.