The widest release ever for a pinball game with this much bounce.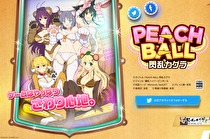 The first Senran Kagura game for the Switch was teased in April, but Marvelous released more details during a livestream last night.
Peach Ball: Senran Kagura was announced for Switch release during the stream. No release date was given for the title, which is a pinball game that uses HD Rumble to provide extra feel for the pinball objects and character body parts.
The "Peach" series of Senran Kagura has been used for non-canon spinoffs of the main series in different genres, such as the PlayStation water gun shooter "Peach Beach".