Now with support for Bayonetta... Amiibo.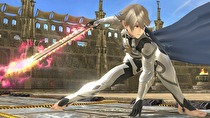 Support for the last Smash Amiibo releasing this week has necessitated an update to the two last Super Smash Bros games.
Both Super Smash Bros for Nintendo 3DS and Wii U have been updated to version 1.1.7 as of tonight. The updates are necessary to add support for the six new Smash Bros series Amiibo that will release Friday (two versions each of Bayonetta, Corrin and Cloud).
As with prior updates, replays from software versions 1.1.6 and before will no longer be viewable.