Can't use it quite yet, though.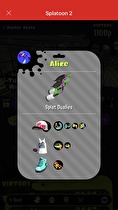 The Nintendo Switch Online application can be downloaded now, though it is currently in a maintenance mode until Splatoon 2 launches.
Android and iOS stores in the United States, Canada, Australia, Japan and Europe have all confirmed the app's availability. Launching the app right after its release showed the server "under maintenance" with a 2816-0700 error code.
Nintendo has an online FAQ page which confirm the app will only work with Splatoon 2 for now, and that use of other phone apps will cause the Nintendo app to disconnect.