It was more than a refresher.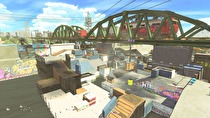 The Splatoon 2 Direct has wrapped, showing off new weapons and returning characters plus a first look at the Nintendo Switch Online app.
Updates will be available to add gear, stages and weapons for up to a year, with Splatfests running for up to two years. The first Splatfest will actually be a pre-launch event, as it will be held on July 15 from 6 p.m. to 10 p.m. Eastern time. The battle of better desert (cake or ice cream) for Europe/North America or better music (rock or pop) for Japan will be fought using a separate Splatoon 2 demo available today. It will now be possible to team with friends during Splatfests provided they are on the same side.
The Splatnet website has been folded into the Nintendo Switch online app, which will launch on July 21 with the game. The online app will automatically set up voice chat for teams, as well as full stat tracking down to performance with different stages and weapons. Social media can also be used to send private match invites.
New abilities and gear were shown, including options to customize hair style and eye color. New gear will also be available, including several new weapon types.
Ranked battles will now track performance in each of the three ranked modes, and depending on performance it may be possible to jump multiple ranks. A League Battle format was also announced, which runs with friends until each stage change (2 hours maximum) and awards medals for performance.
An art studio is available ingame to draw art designs that will show up ingame, replacing the functionality of Miiverse from the original title.
Control options can be customized for both on-TV and handheld play, and both settings along with a loadout can be saved to Amiibo.