The puffball's 25th birthday celebration continues.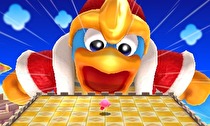 The second of three Kirby 3DS games this year will blast into the 3DS eShop next week.
Kirby's Blowout Blast, an expanded version of a minigame found in last year's Kirby Planet Robobot, will launch in North America on July 6 according to an announcement from Nintendo of America's Twitter account.
Blowout Blast follows the release of Team Kirby Clash Deluxe on April 12, and is to be followed by a "multiplayer action game" for 3DS before the end of 2017.