A new challenger has entered the stadium!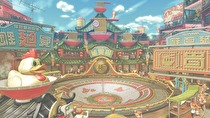 ARMS's 11th playable fighter will be entering the ring shortly.
The new character will be named Max Brass, who is a champion whose arms are made out of title belts. Brass can charge his entire upper body, in order to both do additional damage with punches and to prevent flinching in a matter similar to Master Mummy. At low health (sub-25%), he goes into a permanent charge state. His dash can also create shockwaves that deflect punches similar to Spring Man.
The first update is scheduled for June and will add a spectator mode as used in this week's ARMS Invitational. Max Brass will be playable starting with the second update, due in July.