The stylish 4-player action game is targetting an early 2018 release.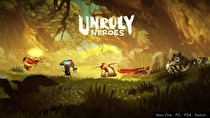 Unruly Heroes is coming to the Switch and is currently targeting an early 2018 release. The game is shaping up to be a side-scrolling action game, and is inspired by the famous Chinese legend, "A journey to the west," better known as the Monkey King legend.
The game will also feature 4-player coop, though developer Mighty Design Studios also promises online player vs. player modes. Though there's no word on what engine technology the game is using, it has highly stylized visuals reminiscent of recent Ubiart Framework games like Rayman Legends and Child of Light.