The new games just keep coming.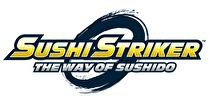 Nintendo has announced a new 3DS title called Sushi Striker: The Way of Sushido at Treehouse Live.
Developed by IndiesZero, the game is an action puzzle title in which players fight a warring kingdom for the rights to all of the world's sushi. The game is "in development", and the demo is still in Japanese. The goal is to chain sushi to create a stack with which to attack the opponent in seven second intervals. Companion characters such as electric cats and penguins can add to your attack power.
Sushi Striker: The Way of Sushido will release in 2018.