Mario's hat has some new tricks...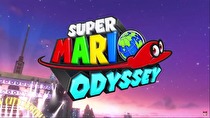 Mark your calendars for October 27, 2017. During Nintendo's E3 Digital Spotlight, the company announced the previously mentioned date as the launch for Super Mario Odyssey, as well as showing a ton of new game play details in a tantalizing trailer.
Super Mario Odyssey, named after Mario's hat-shaped ship that will help him traverse new worlds, has Mario going to all-new locations in an effort to save Princess Peach from what appears to be a betrothal to his longtime rival, Bowser. Mario has some new abilities on his side this time, however, as his hat, named Cappy, can be taken off and thrown at enemies and creatures in the various worlds he visits. It seems that throwing the hat has different effects, but the most interesting one is the ability to possess whatever living creature it attaches to. Mario can use this to take control of traditional enemies like Goombas and Cheep Cheeps, but it was also shown that he can possess other creatures that inhabit the worlds, like dinosaurs, and even the humans of New Donk City. Mario can also visit stores to purchase different kinds of hats, such as a Sombrero that will change his attire and abilities.
Adding to this, there will also be Super Mario Odyssey amiibo debuting with the game. We're currently aware of three of them, Mario, Peach, and Bowser. All three amiibo will depict the characters in their "wedding attire." Koizumi, the director of the game, announced that the amiibo will be used to unlock alternate costumes and assist functions in the game. Some currently existing amiibo will have functions in the game, but details of what they do has not been announced at this time.
Nintendo continues to show of their next flagship Mario title at E3 this week, and we'll keep you updated as the details keep pouring in. For more news on Super Mario Odyssey, and everything else Nintendo announces at E3, stay tuned to Nintendo World Report.