In of all things, a Cat Mario video.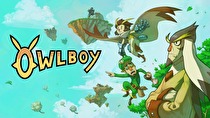 A video on the Japanese-language Nintendo YouTube account has revealed a host of new indie titles for the Switch.
The video is part of the "Cat Mario" series and refers to "Nyandies" ahead of this weekend's BitSummit indie game festival in Japan. Among the footage of released and announced titles is the first console footage of Owlboy, a Steam release from late last year that was in development for a decade. Also shown in the video are previous Wii U title YIIK and the newest title from Has-Been Heroes/Trine developers Frozenbyte, Nine Parchments, plus footage of RIME and Mighty Gunvolt Burst.
No release timeframes have been given for any of these titles, but news on them will come over the next few weeks.