Original character (DO NOT STEAL)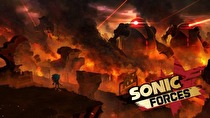 The newest hero has been announced for Sonic Forces, but it's not known what they look like since they are a player creation.
The "Custom Hero" feature was announced today, and features the ability to customize one of seven animals (cat, dog, rabbit, hedgehog, bird, wolf and bear) as well as their playstyle and name. Collectable accessories will allow for the hero to be customized further.
Sonic Forces is scheduled to release this holiday.
Take back the planet from Dr. Eggman as your own Custom Hero in Sonic Forces! pic.twitter.com/SNu1y2YKjJ

— Sonic the Hedgehog (@sonic_hedgehog) May 16, 2017