No announcements on the Switch version, but the rarest dual pack is coming.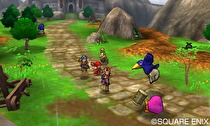 One of the biggest games of the Japanese summer got its release date and special offers overnight.
Dragon Quest XI's 3DS and PlayStation 4 versions will launch in Japan on July 29. Launch editions will include bonus items that boost experience and gold gained, and there will be a dual pack sold in Japan that contains both versions for ¥16156. A "Spell of Restoration" that creates a general state of your world for sharing across the two versions can be created, as a form of cross-save.
When asked about the status of the Switch version, a representative from Square Enix commented to the Wall Street Journal "It is still planned but no announcements today. Whether it launches together on the same day as PS4 and 3DS or not we cannot say today".