One of which dates back to WiiWare.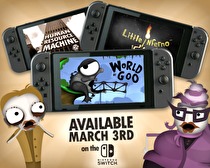 Switch Day One is growing with three more titles coming from Tomorrow Corporation.
The indie publisher announced today that versions of World of Goo, Little Inferno and Human Resource Machine would all release on the Switch March 3 - the system's launch day. Each release will include a Soundtrack Mode.
World of Goo was an early standout title for WiiWare in 2008, while Little Inferno was also a Wii U launch game. Human Resource Machine was a 2015 Wii U release.