Along with a couple of new Nintendo Selects.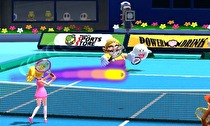 The 3DS's software lineup for February and March has filled in for North America.
Nintendo of America confirmed in a press statement this morning that Tank Troopers will release on the eShop on February 16, while Mario Sports Superstars will follow in stores and digitally on March 24. A line of Mario Sports Superstars themed Amiibo cards will also launch on March 24, at a price of US$4.99 for a blind pack of 5. The cards will provide "a variety of fun bonuses".
In addition, the Nintendo Selects line will expand in mid-February as Kirby Triple Deluxe and Mario and Luigi: Dream Team will join the lineup in North America.