Another beautiful Zelda piece from First 4 Figures.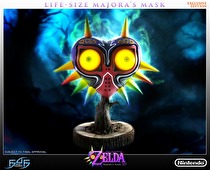 A Majora's Mask statue is now available for pre-order from First 4 Figures. The statue is 25 inches high, 23 inches wide, and has a depth of 13 inches. The statue is scheduled to ship out in Q3 2017.
Two versions of the statue are available. The Exclusive Version, only available from the First 4 Figures site, has eyes that light up and will cost $384.99. The Standard Version, with no lights, sells for $354.99.
The edition size of these limited edition pieces is currently unknown. There is going to be a two week pre-order period before future orders are cut off and the edition size will be set. So be sure to get your orders in or you'll be met with a terrible fate!