Win big, or at least listen to some hot tunes while waiting in line to play Switch.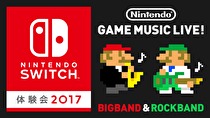 Both a Nintendo Switch giveaway and live music are coming to the Nintendo Switch public event being held at Tokyo Big Sight on January 14 and 15. Two music arrangements, a big band/jazz arrangement by Masanori Sasaji and a rock arrangement by Tetsuya Oyama, will both be at the show. The rock arrangements will be performed at the opening of the show on both days lasting for thirty minutes each and the end on the show on the 14th lasting for forty minutes. The big band arrangement will be performed at the end of the event for an hour on the 15th.
Twenty lucky attendees (ten from each day) will also have a chance to win a Nintendo Switch console. To enter the drawing, attendees will have to sign into their My Nintendo account, click the menu button and then click "check in." This will generate a QR code. A special reception corner will be set up at Tokyo Big Sight with a QR reader that can read the generated QR code and register users into the drawing. The twenty lucky winners will be notified via email around the end of February. Entry is limited to one time per person and only to those residing in Japan.
Entry for the event is free, open to the public and one of many events that will be held in Japan leading up to the release of the Switch. Currently, the live music and Switch giveaway are limited to this first event in Japan.