Nintendo's competitive tank combat title will be hitting digital shelves very soon.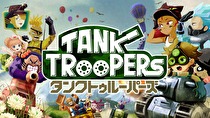 Tank Troopers, the third person action shooter for Nintendo 3DS, is set to release in Japan on December 21 on the 3DS eShop for ¥800 (roughly $6.95 USD with current rates). Nintendo also opened up the official Japanese website for the game today.
While the main draw of Tank Troopers is its competitive six player multiplayer mode, the game also features single player challenge modes as well. Some of the single player content highlighted in the most recent preview video include taking on giant tanks, shooting balloons as well as a soccer-like mode where players have to shoot a ball into a goal. On top of this, there are numerous tanks to choose from with different stats as well as different playable characters that all have their own special abilities.
You can see the new seven minute preview video below. Currently, there is no word as to when Tank Troopers will release outside of Japan.