Great, the frog's loose again.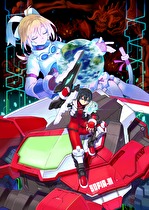 Inti Creates has announced their newest project, in collaboration with one of the NES's great developers.
At their 20th anniversary festival in Japan, the company announced a collaboration with Sunsoft to create Blaster Master Zero, a refined / enhanced version of the 8-bit classic. The company promises improvements to out-of-tank combat, new areas, enhanced sub weapons and "refined mechanics".
Blaster Master Zero will release worldwide next spring as a 3DS eShop title.