Probably the closest we'll get to a Shovel Knight 64 for a while.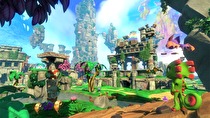 Playtonic Games has revealed many of the characters in Yooka-Laylee, including one major crossover.
A trailer released to coincide with the end of the EGX game festival in England announced that Shovel Knight will make an appearance in the game, among the gaggle of googly eyes.
Yooka-Laylee is still scheduled to release on Wii U before the end of March 2017.