Marking approximately 9002 RPGs released on 3DS this year.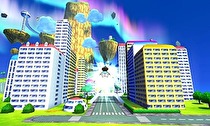 The last RPG on the 3DS's 2016 plate will be based on magna and anime, but it won't be Pokémon.
Bandai Namco announced today that Dragon Ball Fusions, the newest Dragon Ball RPG, will release in North America on December 13. A European release will follow in February of 2017.
Fusions features a player-creatable protagonist who fights alongside many of the popular franchise's characters. In addition, the Fusion Dance can be performed to unlock new characters and abilities.