Lesson learned: Do not mess with the Eevee family.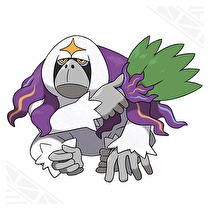 The latest Pokémon Sun and Moon trailer featured returning and renamed features as well as a couple of new Pokémon.
This trailer's new Pokemon are all version exclusive in some way. Sun version will receive Passiman, a quadrapedal Fighting type with the new ability "Receiver" which allows it to inherit the abilities of fallen partners in a double battle. As well, Sun's Rockruff evolution will be the Midday form of Lycanroc, which will have the exclusive Accelrock move mentioned in this month's CoroCoro Magazine.
Moon version will have Orangoru, an orangutan with Normal/Psychic typing and Inner Focus or Telepathy as abilities. It has a unique move called "Instruct" which allows it to use its partner to attack twice in a round in a double battle. Moon will also have the Midnight form of Lycanroc.
In addition to new Z-Moves for Eevee (Extreme Evoboost, which summons all of the Eevee evolutions to double all of Eevee's stats) and Pikachu (Catastropika, a highly damaging move) character customization and the feature previously known as PokémonAmie were detailed. Sun and Moon will call the feature "Pokémon Refresh".
In a separate announcement, it was shown that Pokémon Bank and PokéTransporter will receive Sun and Moon compatibility updates early next year. Bank will be used to move Pokémon from X/Y/Omega Ruby/Alpha Sapphire while PokéTransporter (a free download within Bank) will be used to move Pokémon from the Virtual Console releases of Red/Blue/Yellow.