UPDATED: North America AND Europe are on the case!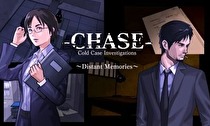 The 3DS will be getting a dash of mystery in October.
Chase: Cold Case Investigations ~Distant Memories~ will release in the eShop on October 13 for North America and Europe. The game will retail for US$5.99/€5.99.
@aksysgames This will be out in North America AND the EU! WOOHOO! $5.99 in NA and equivalent throughout the EU~

— Aksys Games (@aksysgames) September 16, 2016
An adventure title in the vein of Hotel Dusk, the game is notable for being produced by former members of CING.