The specter of death hangs over this one.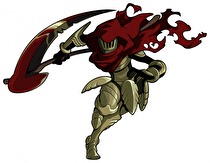 The next Shovel Knight expansion will drop in 2017.
Yacht Club Games tweeted the expansion's logo today showing the Specter Knight campaign will be next - "Shovel Knight: Specter of Torment" will launch next spring.
September 12, 2016
This update will launch with one of the other Kickstarter stretch goal modes - either Battle or Body Swap mode. with the other to come with the King Knight campaign.