PokeStops, nearby Pokemon, and egg hatching are coming to your wrist.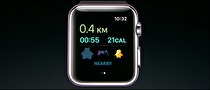 Niantic CEO John Hanke stopped by Apple's Apple Watch Series 2 announcement to show off Pokémon Go on Apple Watch.
The app allows users to track nearby Pokémon, hatch eggs, and gather items from PokéStops. The update should be available later this year.
Hanke also said that Pokémon Go Plus is still coming soon, and that Pokémon Go has been downloaded 500 million times since its debut.