A premium experience for mobile.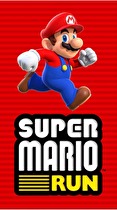 A historic first will mark Mario's debut on mobile phones.
Shigeru Miyamoto appeared at Apple's iPhone 7 announcement conference today to debut Super Mario Run. The base game is designed to play in a similar fashion to an endless runner, but offers different levels and timing-based platforming challenges. There is also an option to race friends, and the ability to build courses using coins collected in the other modes.
The app is expected to launch on iOS first this holiday, and will have a free demo with a full-game purchase afterward. Mario stickers will also be available in iOS's iMessages app.
Nintendo has confirmed that this is the fourth mobile title in their lineup due to release before the end of March, with the Animal Crossing and Fire Emblem apps slated to launch after Super Mario Run.