You got your Snap in my Pokémon RPG!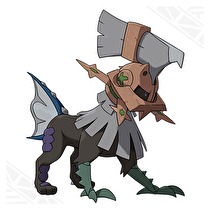 The newest Pokémon Sun and Moon trailer has added some new Pokémon as well as a couple of the game's key sidequests.
Among the debuting Pokémon are:
Alolan Raticate - previously announced, a Dark/Normal type with Gluttony and Hustle abilities
Type: Null - a Normal type with the Battle Armor ability
Jangmo-o - pure Dragon, with Soundproof and Bulletproof
Some of the version differences have been announced, with Sun and Moon taking place 12 hours apart. This also changes some of the Totem Pokémon: Sun will have Gumshoos as a Totem, while Moon will use Alola Raticate in the role instead. Different Ghost Pokémon were also shown as version exclusives: Misdreavus in Moon, Drifloon in Sun.
The side objectives for the game include attempting to rebuild Zygarde in a Zygarde cube, collecting cells and cores throughout Alola. Another key item is the Poké Finder, which allows budding shutterbugs to take pictures of Pokémon and upload them to the internet for ratings and specific comments.
Another Team Skull member was revealed as the group's enforcer Gladion, while the Aether Foundation - a group of Pokémon preservationists who live on their own artificial island - were also revealed. The trailer ends on the reveal of "Ultra Beasts", with the first being named "UB-01" and resembling an alien, but no further details were given.