A 2D platformer with built in level sharing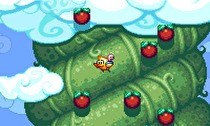 The first game has been announced from one of the Renegade Kid successor studios.
Atooi, the 2D-focused successor company, has announced Chicken Wiggle for the 3DS eShop and iOS. The game features a chicken who uses a worm as a multi-tool to navigate 2D levels.
Chicken Wiggle will also feature its own level creation tool and a community hub. Level creators will be able to set different rules and provide "custom hints".
No release date has been given.