You'll be able to take the fun with you wherever you go.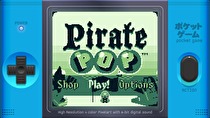 The next new project from 13AM Games will be a throwback with a modern release plan.
Although the studio is currently in the process of porting Runbow to New 3DS, in an interview at Gamescom with Nintendo World Report's Daan Koopman they confirmed that their first game as solely a publisher, Pirate Pop Plus!, will be a crossbuy game on Wii U and New 3DS.
Pirate Pop Plus! is being developed by Dadako and will also release on Steam. The gameplay can be seen below, and check back soon for the rest of our interview with 13AM from Gamescom: